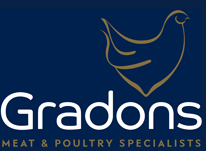 Gradon meat & Poultry Specialists





Welcome to Gradons Meat and Poultry Specialists
The hallmarks of our successful family owned company with over fifty years of experience in the poultry industry.
There are two modern stand alone cutting plants on one site,that supply the food service sector, blue chip catering butchers, wholesalers and respected independent retailers nationwide.
Food quality and safety are extremely important at Gradons and a stringent internal quality management system is used to ensure the highest standard of food quality. This is reflected in our award for the highest commendation of Grade A in BRC, EFSIS standards.